By Lucy Siegel | January 29, 2021
There has been an uproar over Vogue magazine's February issue, which featured an article on Vice President Kamala Harris, with her photo on the cover. The magazine hired photographer Tyler Mitchell for the photoshoot. Mitchell was the first Black photographer to shoot a Vogue cover (which ran in 2018). Vice President Harris selected and wore her own clothes for the photoshoot.
The Vogue staff identified what they thought were the two most compelling shots of Harris. One showed the vice president standing casually in front of a green wallpaper background and a pink curtain. (Green and pink are Harris's Howard University sorority's colors.) She paired a black jacket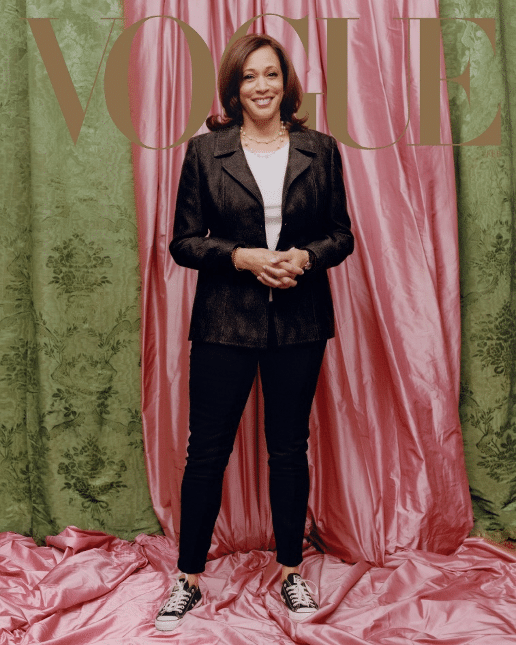 with ankle-length pants and wore trendy sneakers. The photo could be considered somewhat playful and funky.
The other photo was much more formal, serious, and business-like, with the vice president wearing a light blue Michael Kors "power suit," standing, arms folded, in front of a yellow curtain.
Vogue's original decision was to use the more formal pose on the cover and the casual pose on the inside, accompanying the article. The vice president's team was happy with that choice. However, in early January, the cover photo was leaked, and all hell broke loose. The cover featured the casual shot with the pink and green background, not the formal picture with the blue power suit. This was an unhappy surprise for the vice president's team.
Moreover, the cover drew vehement social and news media ire.  Many people commented that the cover photo was disrespectful and insulting because it didn't reflect the importance of Harris's new and historic position as the first Black, Asian-American, and female vice president. Some didn't like the style of the photo. Others said the photographer's lighting of Harris was unflattering, making her look washed out. Vogue didn't seem to know how to find photographers who could competently capture Black women's skin tones, the critics said. The proper lighting of Black skin in both photos and movies has been an issue of concern, controversy, and discussion for years.
The social media storm, which went on for days, also focused on a lack of diversity in Vogue's hiring. If more people of color worked for the magazine, there would be more sensitivity about and competency in lighting Black women for photoshoots, some argued.
Harris's staff had not made a contractual agreement with Vogue for approval of the cover photo. The Vogue staff said they didn't feel it necessary to go back to the Harris team to let them know about the cover photo switch without a cover approval agreement.
Other news events in January make the Vogue cover photo kerfuffle look like a tempest in a teapot. However, to those involved, it was a meaningful crisis that required critical public relations decision-making. And to public relations specialists, the incident provides a great chance to dissect the communications steps taken.
Here are the actions Vogue took: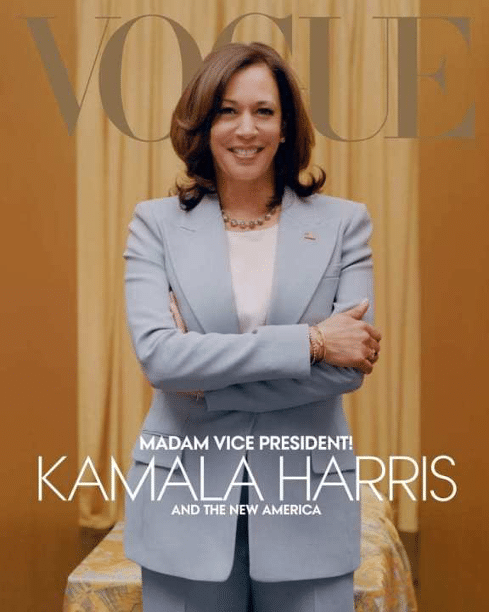 After the cover photo was leaked, Vogue put out an alternative digital cover with the more formal shot of Harris.
Vogue Editor-in-Chief Anna Wintour made a public statement about the incident: "Obviously we have heard and understood the reaction to the print cover and I just want to reiterate that it was absolutely not our intention to, in any way, diminish the importance of the vice president-elect's incredible victory." She explained that she and her staff were very excited to feature the vice president on the cover.
In an interview for the New York Times' "Sway" podcast with Kara Swisher, Wintour explained the thinking behind the choice of the informal cover: "We felt to reflect this tragic moment in global history, a much less formal picture, something that was very, very accessible and approachable and real, really reflected the hallmark of the Biden-Harris campaign and everything that they are trying to, and I'm sure will, achieve," she told Swisher.
Wintour also addressed the issue of the magazine's staff diversity in her "Sway" podcast interview. Wintour said she had written an email to the Vogue staff saying that the publication had not done enough to foster diversity, and that she took full responsibility for that. She added, "We're not perfect and there's a lot more work to be done…we have heard, we have listened and we are moving forward." Wintour went on to explain the measures her company has taken to improve diversity.
Finally, Vogue printed a limited edition of the issue featuring the more formal cover photo, "due to enormous interest."
We asked two PR Boutiques International member agency owners what they would have advised if either Vogue or Vice President Harris were their clients. These public relations specialists each commented on a different side of the crisis.
Cheryl Bame, principal, Bame Public Relations in Los Angeles, gave her perspective on how she would have counseled Vice President Harris and her staff if they were her client.  Bame's agency specializes in legal public relations and has law firm clients nationwide in the United States. "From a PR perspective, final say/creative license for a photograph or profile layout is ultimately the decision of the publication," she comments. "If you want to guarantee content with the media, you purchase an ad."
She continues, "That being said, Vogue's editorial team should have recognized the broader lens this cover photo would be viewed through. Criticism of Vogue is understandable, and we would hope the editorial team would be open to constructive criticism of why the print cover photo was not favorable."
However, she notes, "If Vogue or another publication asks to profile Kamala Harris again for the cover story, her team should ensure she has final sign-off on all photos in consideration as a condition of agreeing to be profiled."
Judith Huss, founder and principal consultant of Huss-PR-Consult in Münich, Germany's media hotspot, has deep experience with public relations for publishers and knows the media landscape well. If she were representing Vogue, she says, she would have advised them to do just what they did.
Huss adds, "Publishing the second edition of the issue with the formal cover means that Vogue can now profit from both editions. They have gotten a lot of attention from other media, which boosts their sales."
Huss says that initially she thought the original cover worked very well to describe Harris's style and approach to the job. "I also think that it was nice to show a women in her 50s in a modern and stylish outfit. Obviously, nobody should be judged by their looks in such a job!" Huss notes that PR for media outlets is always difficult. "Kudos for Vogue in succeeding in featuring a high profile politician on their cover in the first place! Doing so enabled them to raise attention for the publication and boost sales."